"A sleek hotrod of a narrative…
A David vs. Goliath story for the ages."
2019-11-19T22:33:25+00:00
—Nathaniel Philbrick, New York Times bestselling author of Mayflower
"A sleek hotrod of a narrative… A David vs. Goliath story for the ages."
http://nealbascomb.com/testimonials/nathaniel-philbrick-2/
"Faster is a full-throttle reminder of the power of heroes to inspire us in dark times. Neal Bascomb has brought to life a gripping, expertly researched tale of an unlikely band of dreamers who risked everything to challenge evil."
2019-11-20T21:03:02+00:00
—Mitchell Zuckoff, New York Times bestselling author of Lost in Shangri-La and 13 Hours
"Faster is a full-throttle reminder of the power of heroes to inspire us in dark times. Neal Bascomb has brought to life a gripping, expertly researched tale of an unlikely band of dreamers who risked everything to challenge evil."
http://nealbascomb.com/testimonials/mitchell-zuckoff/
Sport, politics, and human passion collide in this sizzling ride of a book. Bringing the excitement of motor racing to life on a page is no easy task but Bascomb succeeds hugely. Rene Dreyfus's victory over the Nazis is a victory for us all.
2019-11-20T21:03:45+00:00
—A.J. Baime, New York Times bestselling author of Go Like Hell
Sport, politics, and human passion collide in this sizzling ride of a book. Bringing the excitement of motor racing to life on a page is no easy task but Bascomb succeeds hugely. Rene Dreyfus's victory over the Nazis is a victory for us all.
http://nealbascomb.com/testimonials/a-j-baime/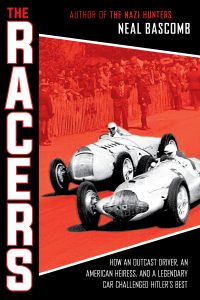 The Racers: How an Outcast Driver, an American Heiress, and a Legendary Car Beat Hitler's Best
The heart-pounding story of an unlikely band of ragtags who took on Hitler's greatest Grand Prix driver.
In the years before World War II, Adolf Hitler wanted to prove the greatness of the Third Reich in everything from track and field to motorsports. The Nazis poured money into the development of new race cars, and Mercedes-Benz came out with a stable of supercharged automobiles called Silver Arrows. Their drivers dominated the sensational world of European Grand Prix racing and saluted Hitler on their many returns home with victory.
As the Third Reich stripped Jews of their rights and began their march toward war, one driver, René Dreyfus, a 32-year-old Frenchman of Jewish heritage who had enjoyed some early successes on the racing circuit, was barred from driving on any German or Italian race teams, which fielded the best in class, due to the rise of Hitler and Benito Mussolini.
So it was that in 1937, Lucy Schell, an American heiress and top Monte Carlo Rally driver, needed a driver for a new team she was creating to take on Germany's Silver Arrows. Sensing untapped potential in Dreyfus, she funded the development of a nimble tiger of a car built by a little-known French manufacturer called Delahaye. As the nations of Europe marched ever closer to war, Schell and Dreyfus faced down Hitler's top drivers, and the world held its breath in anticipation, waiting to see who would triumph.
---
Reviews
"Like one of the race cars Neal Bascomb so elegantly describes, Faster is a sleek hotrod of a narrative. Replete with fascinating characters, with a historic backdrop full of angst and menace, this is a David vs. Goliath story for the ages."
– Nathaniel Philbrick, New York Times bestselling of In the Heart of the Sea
"Faster is a full-throttle reminder of the power of heroes to inspire us in dark times. Neal Bascomb has brought to life a gripping, expertly researched tale of an unlikely band of dreamers who risked everything to challenge evil."
—Mitchell Zuckoff, New York Times bestselling author of Lost in Shangri-La and 13 Hours
Sport, politics, and human passion collide in this sizzling ride of a book. Bringing the excitement of motor racing to life on a page is no easy task but Bascomb succeeds hugely. Rene Dreyfus's victory over the Nazis is a victory for us all.
—A.J. Baime, New York Times bestselling author of Go Like Hell
Photos
Author Q & A
How did you come to write about Rene Dreyfus and his once-famous Delahaye?
Book ideas originate from my places. Sometimes you're out fishing for ideas; other times you come across a vignette in a history that you believe could play out on a much larger scale. And on the rare occasion, one drops your lap like a gift from heaven. This was the latter, courtesy of my good friend and talented Wall Street Journal columnist Sam Walker. Four years ago, while in New York visiting his family, he passed along to me a small news article about classic car collector Peter Mullin who had just premiered his latest gem called the Million Franc Delahaye. There was an intriguing story behind its genesis. According to the piece, the French-made car had been produced to take on the fearsome German Silver Arrows before the break of World War II; its creation was financed by an American heiress named Lucy Schell; and, if this was not epic tale enough, the Delahaye was piloted by Jewish driver Rene Dreyfus. It did not take a genius to know this was a remarkable sports story, perhaps better even than Jesse Owens at the Berlin Olympics, of David beating Goliath. Instead of running, we had race cars. Even better, Hitler sought to destroy the Delahaye when he invaded France, and the car was disassembled and hidden to avoid discovery. After years of restoration efforts, Mullin had brought the car back to its former glory. Even after focusing on this story for three years, I still get excited thinking about it.
Beyond what sounds like a compelling narrative, why does this history of a race car matter to today's reader?
In building the Silver Arrow race cars, Hitler wanted to prove the superiority of the German nation—yes, in motor sport but also in terms of their engineering, technological and economic prowess. These bullets on wheels were nationalistic symbols (in some ways of capitalism versus fascism). The same game continues to play out today. One sees most pervasively by China through their high-speeds trains, their skyscrapers, their leaps in artificial intelligence and super computers, and even their "Belt and Road" initiative spanning the globe. Not only must their dominate, but they need to be seen to dominate above all others, past and present.
The battle on the Grand Prix was an early predecessor of this, and the attempt by Hitler to erase the history of their defeat at the hands of Dreyfus, Schell, and Delahaye (by destroying the records of the 1938 season and seeking out the car itself for the same) has echoes today—and throughout time—as well. It is not much different when you think of ISIS trying to eliminate any vestige of Shiite mosques, tombs, and shrines in Iraq. Or the mortaring of the famed Mostar bridge during the Bosnian war. It is rewriting history by attempting to erase it. That is why the resurrection of the Delahaye to its former glory today resonates so deeply.
Have you always been a car fanatic?
Truth be told, no. As a kid, my grandmother owned a 1968 red Mustang convertible, which I was in absolute awe of, but my fascination waned, not least because when I was old enough to drive, my experience was limited to utilitarian snorers, including a Pontiac Sunbird, Isuzu Impulse, and Suzuki Grand Vitara. Cubic capacities, the differences between a turbo and supercharged engine, and the dynamics of suspension systems—all were lost on me. That said, when I first visited the Petersen Museum in Los Angeles to meet Peter Mullin, everything changed. There was a special exhibit on Bugattis, and I simply could not believe the beauty and refinement of these masterpieces of design. Then, when I first got a chance to ride in some of these classics, to feel their power and the thrum of their engines, I was lost to this world. Now I frequent classic car sites like bringatrailer.com and revel in the weekly "My Ride" dispatches from the Wall Street Journal's A.J. Baime, to name just a few distractions. One day soon, I intend to get my hands on a '68 convertible too!
Why have we never heard of the name Lucy Schell?
Over the past two years, the New York Times has been running a spectacular project called "Overlooked." Originated by Amisha Padnani, it features the obituaries of remarkable women that the paper-of-record overlooked on their deaths, including the first American woman to claim an Olympic championship to a literary star of the Harlem Renaissance. Surely the faded memory of Lucy Schell suffered from the same discrimination and prejudice. The fact is Lucy was a true path-breaker who lived a incredible life. A nurse in WWI, she went on to become one of the first speedqueens. For almost half a decade, she was one of the best Monte Carlo Rallyers, man or woman. She was surely the top-ranked American. Then she was the first woman to start her own Grand Prix race car team. She helped win the famed Million Franc prize for Delahaye, and it was her car—and her driver Rene Dreyfus—who beat the German Silver Arrows in an epic race before the war. One of my proudest accomplishments with Faster is restoring her rightful position in the racing history!
What was the most challenging aspect of the research?
On previous books, there was often a world of publicly available, primary research. Sometimes I had to dig for weeks or months among obscure files to discover what I needed, but a picture ID and a fair travel budget usually sufficed to obtain entry (except in Russia!). In the automotive world, private collectors often corner the market on archival material, including company documents, interviews, photographs or personal papers. At first, I was rebuffed by these collectors, likely because I was seen as an interloper (and not French enough when it came to Delahayes). Charm offensives and a lot of follow-up finally gained me access to many treasures scattered about the globe, whether found in a sprawling French farmhouse, a cluttered Seattle garage, or a storybook English manor, among other places. Fortunately, the reward was never-before heard interviews with Rene Dreyfus, personal histories of Lucy Schell, grainy video footage of 1930s Grand Prix racing, and rarely seen blueprints and production figures from Delahaye. The generosity from these collectors, not to mention the exquisite archives at the REVS Institute and Daimler-Benz, have allowed me to tell this remarkable story in what I hope is a visceral, edge-of-your seat way.
What was most memorable about writing Faster?
The first I chronicle in the introduction: zooming through the orange groves of California in the 1938 Delahaye 145 at speeds that still make me tremble. Second to that would be my journey to France, Germany, and Monaco. It's one thing to watch a race on the Nurburgring or through Monte Carlo, it's another to drive these same stretches, then walk them on foot. I wanted to know every turn and dip in an attempt to get some sense of the challenges of racing these courses at hundreds of miles an hour, amid a crowded field of other cars that could vault off the road at any minute (or directly into you). Of special note was a private tour of Montlhery outside Paris. We raced around the oval autodrome, and I truly got the sense of what it was like to round the banked curves, feeling like a fly stuck on a wall, but in danger of slipping off at any moment. It was deliciously frightening, and the experience of a lifetime.